Olympian launches "The most interesting bikes in the world" from Omaruru

---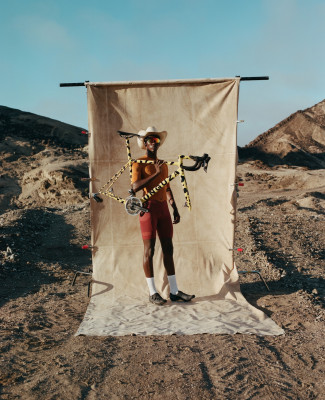 24 Oct 2022
Two-Time Olympian launches "The most interesting bikes in the world" from Omaruru


Dan Craven, the retired two-time Olympic road cyclist and Namibia's only professional cyclist to ride a Grand Tour, owner of ONGUZA bicycles, officially launched sales for its first bikes.

ONGUZA began as an idea in 2010 and since 2017 Craven has been working with award-winning frame builders and frame building instructors from the UK and Spain to train Nkolo and Mufenge who are stationed in Omaruru, to build truly world-class bicycle frames.
"What we're doing is not just assembly. We get specialist steel tubing and machined parts from Italy and California specifically for this kind of bicycle, but then the work starts. Designing geometry, further bending of tubes, hand mitering and hand filing all parts for a perfect fit before brazing the parts using brass and silver and working temperatures of up to 900 degrees. Before continuing with the very tricky task of attaining perfect alignment and beautifully clean welds.
It takes a full week to build every single frame, even with four sets of hands in the workshop. All to create bicycle frames good enough for racing at the highest level - or to ride across the continent."



ONGUZA's story is about celebrating Namibian people and culture. "We have some many beautiful fashion traditions in Namibia, the food, the cows and goats and chickens, the general stores and even the design of shebeens that are truly the lifeblood of so many small communities here- but also for cyclists passing through."


But it's not all story.
Craven has made Nkolo and Mufenge shareholders in the company. "As part-owners, the success of the business means the people who work for us are successful too. I really want our company to become a model for other small businesses in Namibia and across the continent demonstrating how things can be done differently. The thing that gets me up in the morning is making sure we're bringing business into Omaruru, into Namibia, and bringing more people with us as we go. Namibia is a country of talented makers working in jobs where their salaries don't match their skills. We're simply creating a trade that matches the high value of their expertise and workmanship."

An ONGUZA frameset alone costs upwards of 4000 USD (72,000 NAD) and a complete bike is close to double that. "We've already had orders from customers as diverse as from New York City to Malawi. These people are really advanced cyclists who know the craftsmanship that goes into these bikes and what a joy they are to ride, but they are also people who want their bikes to say something powerful about their values and how they spend their money," says Craven.