NNOC Coaches' Workshop 2023

---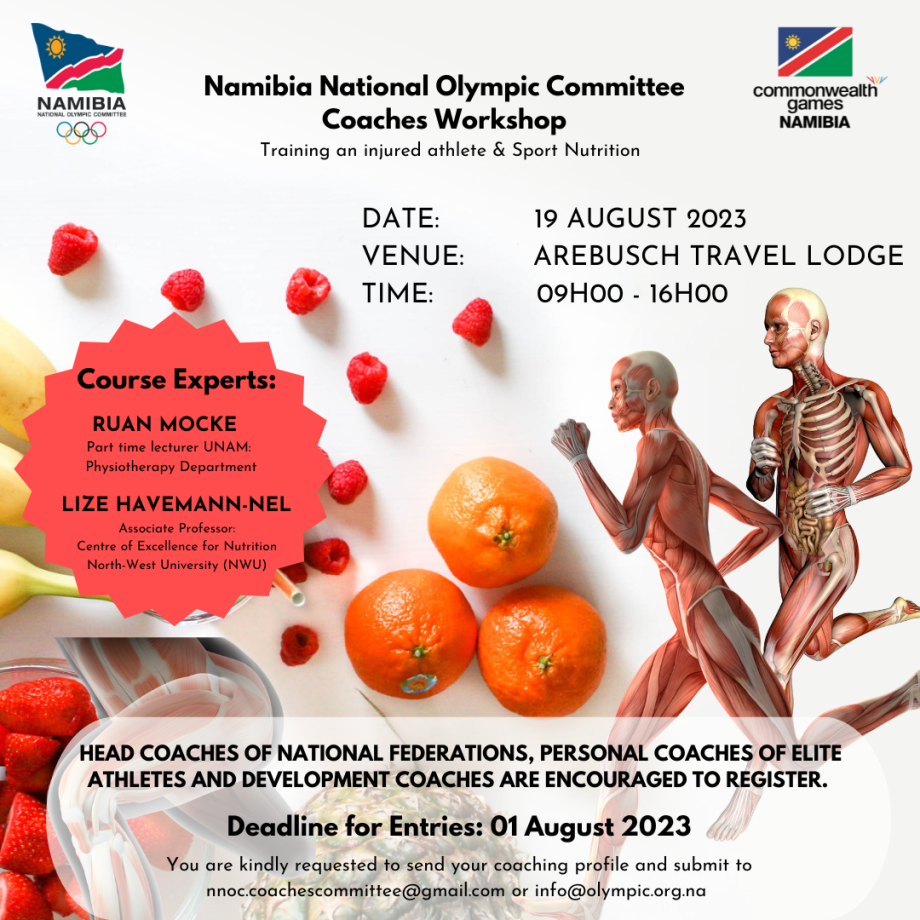 26 Jul 2023
NNOC Coaches' Workshop: Training an injured athlete and sport nutrition.
The focus of the workshop:

• Gain basic knowledge and understanding of the scientific-based physiological principles and mechanisms to train an injured athlete.
• Gain basic knowledge and understanding of the scientific-based physiological principles and mechanisms on nutrition.
The workshop will be facilitated by Ruan Mocke and Lize Havemann-Nel.

Ruan Mocke is a part-time lecturer at UNAM physiotherapy department. He has his own private practice as physiotherapist at the coast. He is the chairman of the Physiotherapy Cardiopulmonary Group of Namibia since 2022. He has been a physiotherapist for several regional rugby and cricket teams in Republic of South Africa and have assisted Cricket Namibia, and Athletics Namibia on several tours. He was our dedicated physiotherapist serving our Namibian Team at the Commonwealth Games in Birmingham.

Lize Havemann-Nel is a Registered Dietitian with a PhD in Exercise Science and is currently employed as an Associate Professor in the Centre of Excellence for Nutrition at North-West University (NWU). She is also the South African project coordinator for a European Union funded capacity building project entitled 'Improvement of early child nutrition and health in South Africa' (ImpENSA). Until recently she was fulltime employed in the School for Nutrition, Physiology and Consumer Sciences at NWU where she was mainly responsible for the undergraduate Community Nutrition training of the Dietetic students, teaching the Sports Nutrition module on master's level and doing nutrition research. Her main research interest has recently shifted from predominantly Sport Nutrition to include Public Health Nutrition (in particular Infant and Young Child Nutrition) and Physical Activity, where she supervise/co- supervise several MSc and PhD research projects that include both quantitative and qualitative research methodology. She has presented and published several invited lectures and original research at national and international congresses/journals. She serves on several professional bodies, editorial and review boards, and consults with a number of sporting organisations as nutrition advisor. She is also involved with the NWU Centre of Human Health and Performance (CHHP) as nutrition advisor specifically for their sport-related projects/sport nutrition.
The workshop will take place:

Date: 19th August 2023
Venue: Arebbusch Travel Lodge - Windhoek
Time: 09h00 - 16h00
With focus on international qualifications for future international games e.g. 2024 Paris Olympic Games, the NNOC-CGA regards this workshop extremely important for head coaches of National Federations, personal coaches of elite athletes and development coaches.
Please indicate via return email your interest to attend the workshop. You are kindly requested to send your coaching profile and submit to [email protected] or [email protected] .

Deadline for entries: 1st August 2023