About Us

---
Affiliated to
International Olympic Committee (IOC)
All National Olympic Committees (ANOC)
African National Olympic Committee Association (ANOCA)
Confederation of Southern African National Olympic Committees
Commonwealth Games Federation (CGF)
Registered with
Ministry of Youth, National Service, Sport and Culture
About the NNOC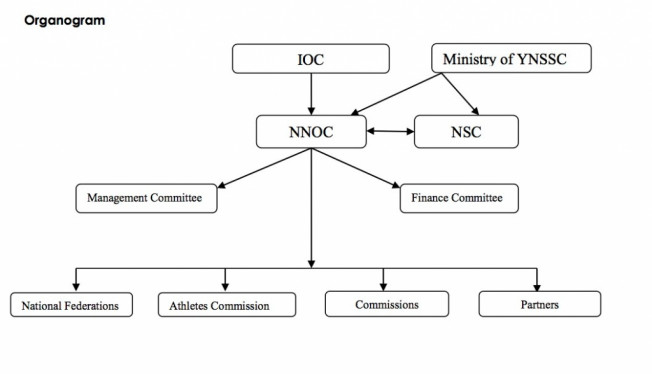 The Namibia National Olympic Committee (NNOC) is a non-profit organistion governed by the Olympic Charter of the IOC and also serves as the Commonwealth Games Association affiliated to the Commonwealth Games Federation (CGF). Its primary purpose is to organise and plan participation of Namibian athletes in Olympic as well as Commonwealth Games. The NNOC work in close cooperation with the Namibia Sports Commission.
The NNOC was founded on 28 May 1990 (little more than two months after Namibia became an independent country) under the guidance and leadership of former President Dr. Sam Nujoma, who is to date still the patron of the organisation.
On 7 June 1990 Namibia was accepted as provisional member of the Commonwealth Games Federation and membership was endorsed that same year at a general assembly. The first application for membership to the IOC was submitted on 19 March 1991. Membership was approved and Namibia became a member of the IOC a few months before the 1992 Barcelona Olympic Games.
Seventeen (17) Olympic sport disciplines became members of the NNOC with its inception. Those sport disciplines soon became recognised members of their respective International Federations. The Body currently has 26 members that include sport codes not currently on the Olympic programme but are recognised members of the IOC.
Namibia made history when Frankie Fredericks won two silver medals at the 1992 Olympic Games in Barcelona. Namibia participated with six (6) athletes in Athletics, Boxing and Swimming. Ever since the country has qualified athletes and participated in the Olympic Games as well as the Commonwealth Games.
Mission
The Mission of the NNOC is to promote Olympism throughout Namibia and lead the Olympic movement in the country.

Vision
The vision of the NNOC is to become the leading National Olympic Committee on the continent by creating a sustainable environment to improve the quality of life of Namibians by embracing the Olympic Ideals and Values.
Our Values
Excellence: A focus on excellence can help us to make positive, healthy choices, and strive to become the best we can be in whatever we do.
Friendship: We consider sport as a tool for mutual understanding among individuals in Namibia form all around the world. The genuine, caring connection between two people who not only understand, but want only the very best of all things in life for the other.
Respect: This value refers to respect for ourselves, for one another, for rules for fair play and for the environment. When we learn to accept and respect the diversity and proactive personal peaceful behaviour, we promote peace and understanding.
Integrity: We are authentic, and act constantly without hidden agendas. We take responsibility and hold ourselves accountable.
Transparency: We promote easy public access to information and decision making processes. We communicate with stakeholders regarding all our actions.